Lebanese-Style Eggplant Sandwiches with Garlic Dip
Prep: 10mins
Cook: 10mins
Servings: 2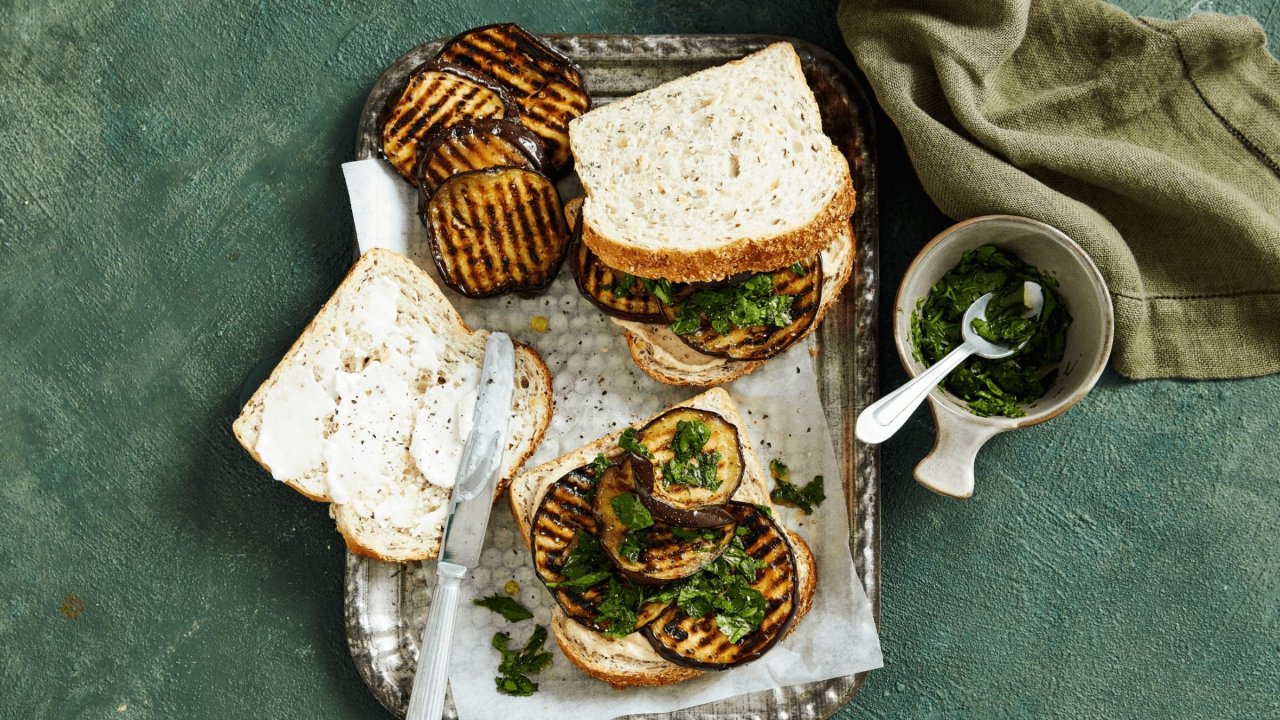 Dairy free, vegetarian Lebanese-Style Eggplant Sandwiches with Garlic Dip will be your veggie go to. BBQ the eggplant with the hood down for a char grilled flavour.
Ingredients
1 medium eggplant (300g), sliced into 1.5cm thick rounds
2 tbsp olive oil
1 cup coarsely chopped flat-leaf parsley
½ cup coarsely chopped mint leaves
2 tsp lemon juice
4 slices Helga's Soy & Linseed Bread
1/3 cup (90g) hummus
2 tbsp garlic dip
Method
Place eggplant in a medium bowl. Drizzle with half the oil; season and toss to coat. Cook eggplant on a heated grill plate or barbecue (see tip) over medium-high heat for 5 minutes each side or until tender and grill marks appear. Transfer to a plate.
Meanwhile, combine herbs, lemon juice and remaining oil in a medium bowl; season and toss to combine.
Lay a sheet of baking paper on a chopping board; top with bread slices. Spread 2 slices with hummus, then top with eggplant and herb mixture. Spread remaining bread slices with garlic dip; place, garlic-dip-side down, over herb mixture.
Tip: You can trim the eggplant to fit the sandwich in step 3, if you like.
Swap: Use capsicum instead of eggplant and baba ganoush instead of hummus.
Tip: If cooking eggplant on a barbecue, cook with the hood down.