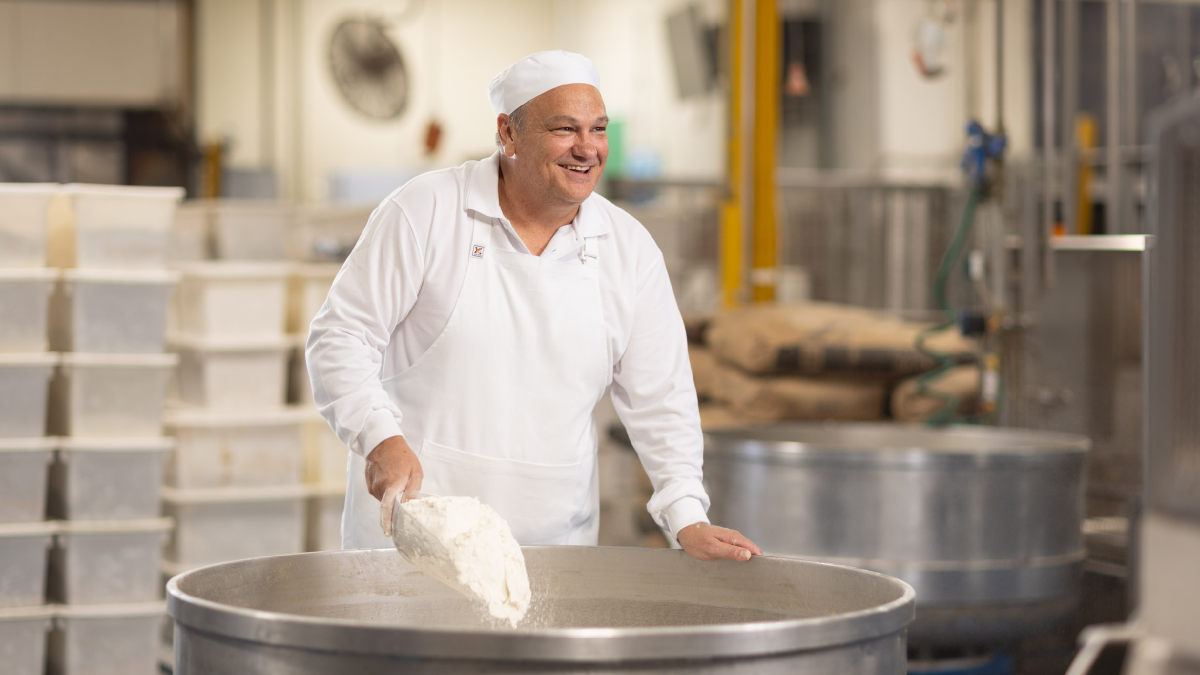 Jeff is one of our experienced team managers who works at our Forestville bakery. With 32 years of experience, Jeff knows the ins and outs of what it takes to produce a delicious loaf of Helga's bread! We sat down with him to find out what his role at the bakery is, his favourite Helga's product, and what keeps him motivated to come to work every day.
Could you tell us about your role at the Forestville site and what your main responsibilities are as a team manager?
As a team manager at the Forestville site, I oversee all aspects of baking beautiful bread every day. My role involves making sure everything runs smoothly and efficiently, from working with the team, to ensuring the quality of our products.
Do you have a favourite Helga's product?
I'll admit, it's tough to pick just one! However, if I had to choose, I would say that Helga's Pumpkin Seed & Grain bread is definitely one of my favourites.
What time do you usually wake up to start your day at the bakery, and what's the first thing you do when you arrive at work?
My day starts bright and early with a 6:00 am start at the bakery. When I arrive, the first thing I do is greet the team, make sure the ovens are prepped and primed, and ensure that everything is setup to run smoothly for the day.
Can you walk us through how you ensure that each batch of loaves is carefully inspected for quality and consistency before it is packaged and sent out to customers?
Our team are highly trained in quality control, from weighing up ingredients to mixing the dough and slicing the loaves. They check every aspect of the baking process to ensure that the products Aussie's are eating are at the finest possible Helga's standards.
You've been with GF for an impressive 32 years! Can you tell us about a particularly memorable day during your time as a baker at our Forestville bakery?
I have so many fond memories at Forestville, but one that stands out was when I received my 25-year service award. It was a great milestone in my career, and I felt proud of what I had accomplished.
What do you find most rewarding about working at the Forestville bakery, and how does it motivate you to come to work every day?
For me, it's the people I work with that make the job so rewarding. The team at Forestville is fantastic, and working alongside such great people makes it easy to come to work.
---