Prosciutto & Mozzarella Squares
Prep: 24mins
Cook: 6mins
Servings: 6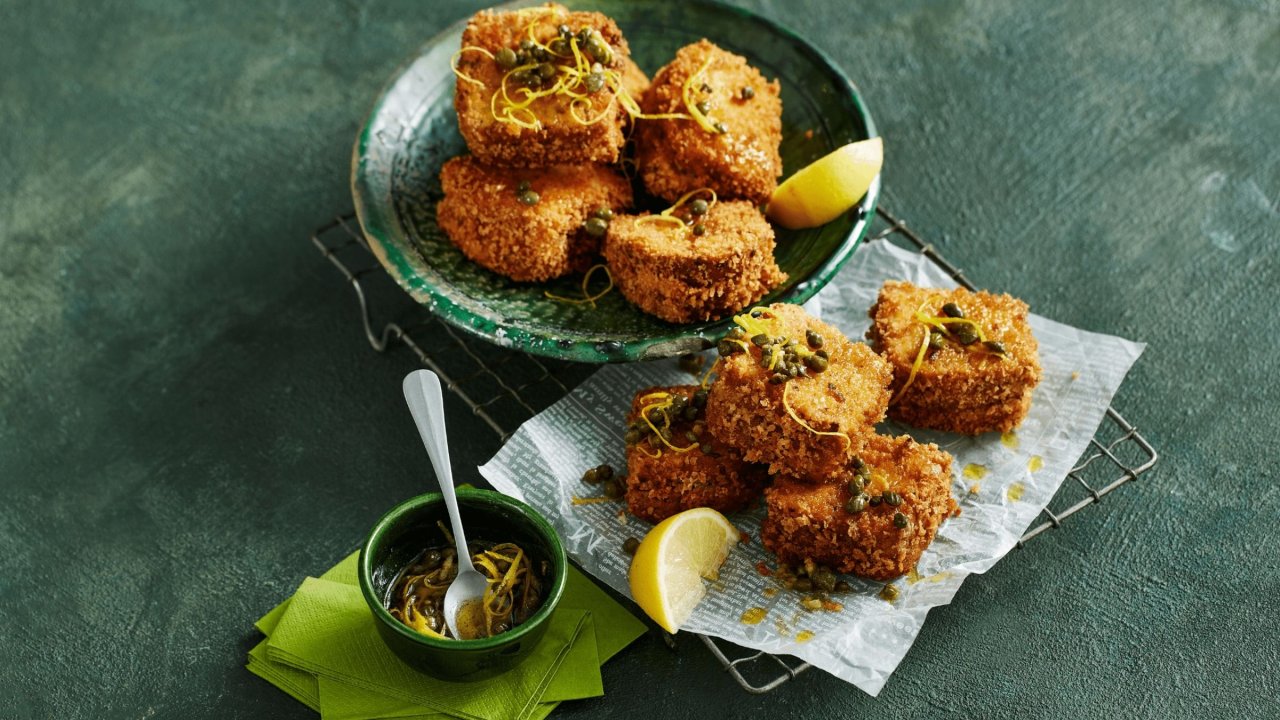 Who doesn't love a crumbly, cheesy, bite sized treat! These Prosciutto & Mozzarella Squares are ready in only 30 mins.
Ingredients
6 slices Helga's Traditional White Bread
3 slices prosciutto (45g)
½ x 200g tub fresh mozzarella, drained, sliced thinly
2 eggs, beaten lightly
1/3 cup (80ml) milk
1½ cups (110g) panko (Japanese) breadcrumbs
vegetable oil, for shallow frying
1 medium lemon (140g)
50g butter
2 tbsp baby capers
2 cloves garlic, crushed (optional)
¼ cup finely chopped flat-leaf parsley
lemon wedges, to serve
Method
Lay a sheet of baking paper on a chopping board; top with bread slices. Divide prosciutto and mozzarella between three slices; sandwich with the remaining bread slices. Cut each sandwich into 4 squares.
Combine the eggs and milk in a shallow bowl. Place breadcrumbs in another bowl. Line a baking tray with baking paper. Working with one square at a time, holding tightly so filling does not fall out, dip into egg mixture; drain off excess. Dip into breadcrumbs; turn to coat all over. Place on lined tray. Repeat with remaining squares.
Heat vegetable oil in large frying pan over medium-high heat; cook squares, in batches, turning, for 4 minutes or until golden. Remove with a slotted spoon; drain on a paper-towel-lined plate.
Remove rind from lemon with a zester; reserve. Squeeze juice from lemon; you will need 2 tbsp juice. Heat butter in large frying pan over high heat until frothy. Reduce heat to low-medium. Cook capers and garlic, stirring, for 1 minute or until golden. Add lemon juice; cook for 2 minutes or until warm and fragrant. Stir in parsley and half the lemon rind; season.
Place squares on a serving dish; pour over caper sauce. Top with remaining lemon rind. Serve with lemon wedges.
Serving Idea: For an umami hit add 4 chopped anchovies with the capers and garlic in step 4.
Tip: If you don't have a zester, coarsely grate the lemon rind instead.