Italian-Style Wrap Stack
Prep: 31mins
Cook: 29mins
Servings: 4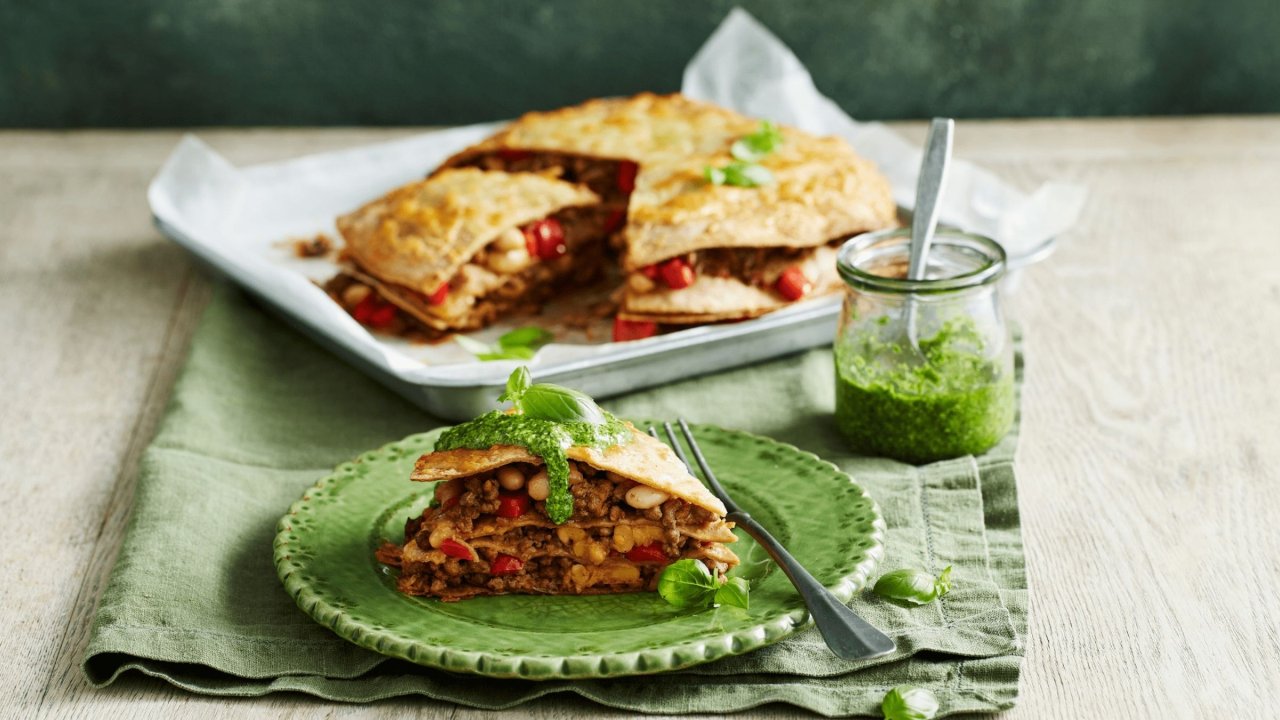 Stack em high with this Italian Style Wrap Stack. Packed with seasoned minced beef and beans, you will be counting the hours to dinner.
Ingredients
1 tbsp olive oil
1 medium onion (150g), chopped finely
1 medium red capsicum (200g), chopped finely
2 cloves garlic, crushed
500g beef mince
1 tbsp finely chopped rosemary
½ tsp chilli flakes
2 tbsp tomato paste
400g can cannellini beans, drained, rinsed
4 x Helga's Prebiotic Wraps
1½ cups (180g) grated cheddar cheese
basil pesto and small basil leaves, to serve
Method
Preheat oven to 200°C. Line a baking tray with baking paper. 
Heat oil in a large frying pan over medium heat. Add onion, capsicum and garlic. Cook, stirring, for 5 minutes or until onion and capsicum are tender. Increase heat to medium-high. Add mince; cook, stirring to break up lumps with the back of a spoon, for 5 minutes or until browned. Add the rosemary, chilli flakes and paste. Cook, stirring, for 1 minute or until fragrant. Add the beans and 1/4 cup (60ml) cold water. Stir to combine. Simmer for 3 minutes or until mixture has thickened slightly. Season to taste. Cool slightly.
Place a wrap in centre of lined tray. Spoon one third of the mince mixture over wrap. Sprinkle with 1/3 cup cheese. Repeat layering twice more, finishing with a wrap. Sprinkle with remaining cheese. Bake for 15 minutes or until golden.
Cut stack into wedges. Serve topped with pesto and basil.