Cajun Baked Crisps with Charred Tomato Salsa
Prep: 25mins
Cook: 35mins
Servings: 6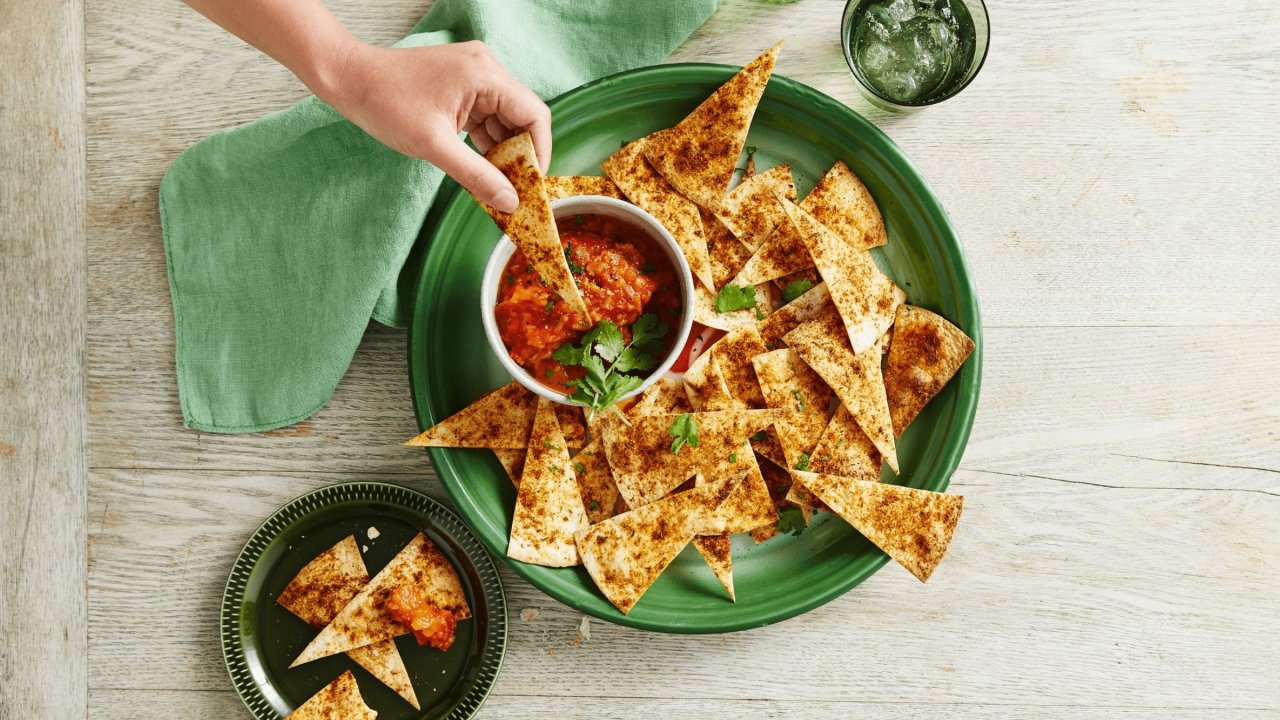 Bring in the heat with these Cajun Baked Crisps with Charred Tomato Salsa. A fun and easy alternative to tortilla chips.
Ingredients
4 large egg tomatoes (360g), halved 
1 medium onion (150g), cut into thick wedges
1 fresh long red chilli
2 tbsp olive oil 
3 x Helga's Traditional White Wraps
olive oil cooking spray
1½ tsp cajun seasoning (see tip)
2 tsp hot chilli sauce
2 tbsp finely chopped coriander, plus extra sprigs to serve
Method
Preheat oven to 200°C. Line two baking trays with baking paper.
Place tomatoes, cut-side up, on a tray. Arrange onion and whole chilli around tomatoes. Drizzle with oil. Bake for 30 minutes or until tender. 
Meanwhile, cut each wrap into 12 even wedges. Place, in a single layer, on second lined tray. Spray with oil. Sprinkle with seasoning. Bake for the last 12 minutes of tomato cooking time. 
Discard stem from chilli. Blend tomato, onion and chilli until finely chopped; transfer to a large frying pan. Stir in chilli sauce. Heat over medium-high heat, stirring, for 5 minutes or until salsa has thickened slightly. Remove from heat; stir in half the chopped coriander. Season to taste. Set aside to cool.
Top the cooled salsa with remaining chopped coriander and extra sprigs. Serve with cajun crisps for dipping.
Tip: Different brands of cajun seasoning will vary in heat; taste as you go to suit your heat level tolerance.