Buffalo Chicken Pizzas
Prep: 22mins
Cook: 18mins
Servings: 4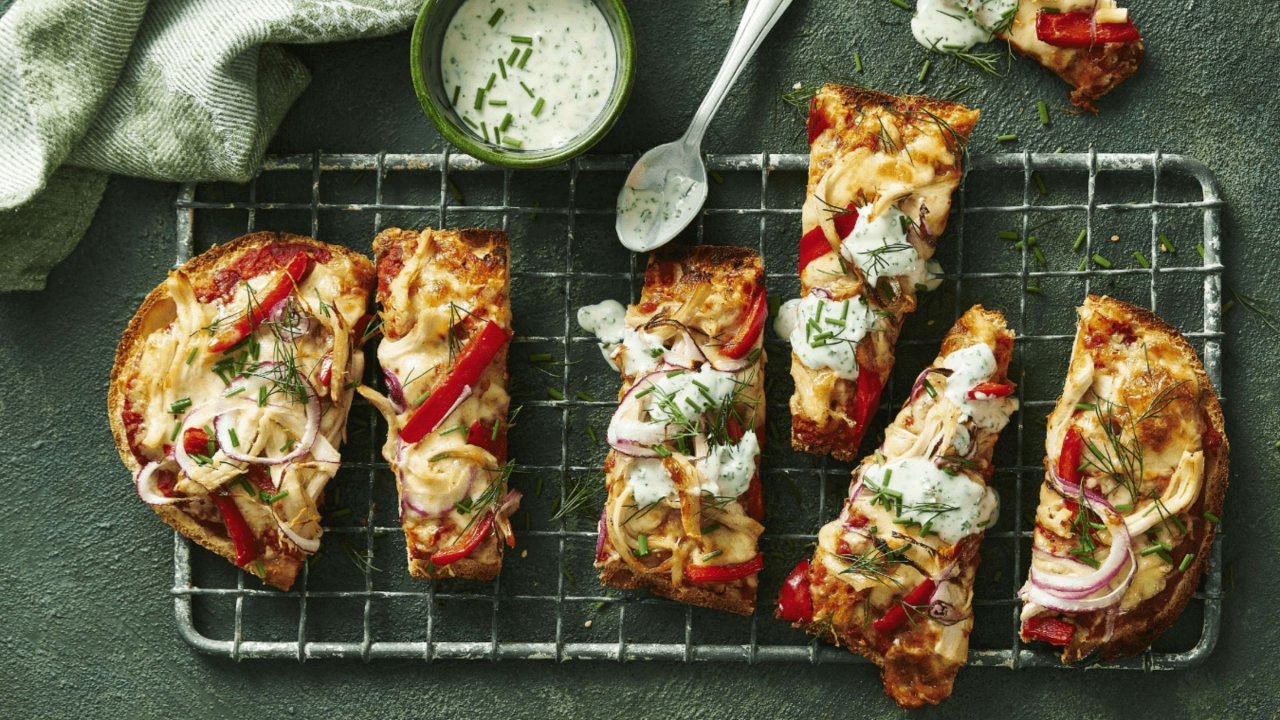 Now's your chance to try Helga's Turkish Bread - you will never go back to traditional pizza bases after trying this one!
Ingredients
1 x Helga's Garlic Turkish Bread, split
400g jar napolitana pasta sauce
1½ tbsp buffalo hot sauce (see tip)
1½ cups (150g) grated pizza cheese
1 medium red capsicum (200g), sliced thinly
2 cups (320g) shredded barbecued chicken
1 small red onion (100g), sliced thinly
1/3 cup (100g) aïoli
1 tbsp chopped dill, plus extra to serve
1 tbsp finely chopped chives, plus extra to serve
2 tsp lemon juice
Method
Preheat oven to 220°C. Line two large baking trays with baking paper.
Place a turkish bread half, cut-side up, onto each tray.
Combine sauces in a small bowl. Spread the sauce mixture over bread halves. Top each half with ½ cup cheese, the capsicum, chicken and onion. Scatter evenly with remaining cheese. Bake for 18 minutes or until golden and bases are crisp.
Meanwhile, combine the aïoli, dill, chives and lemon juice in a small bowl. Add a little water, if needed, to make a drizzling consistency.
Serve pizzas drizzled with herbed aïoli and scattered with extra herbs.
Tip: If you're not a fan of heat, add ½ tbsp buffalo sauce at a time in step 3 and taste to ensure it's not too hot for your liking. Alternatively, omit altogether.