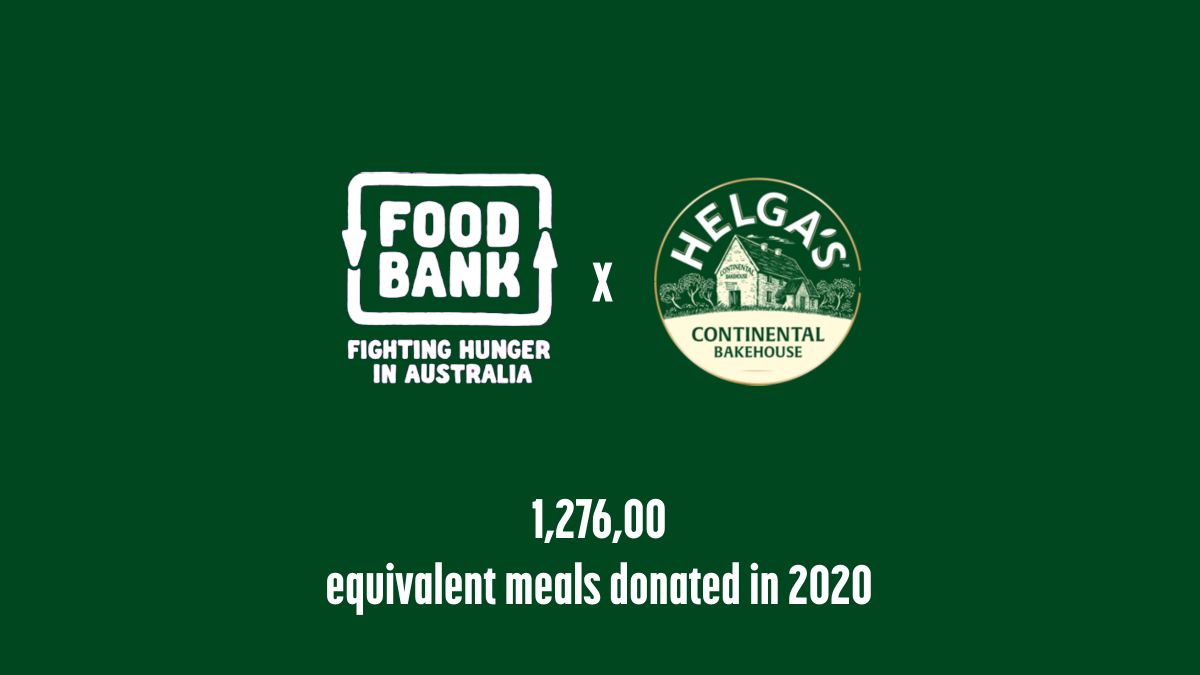 Our Partnership with Foodbank
At Helga's we have always made it our mission to spread kindness, loaves and loaves of it. Since 2010 we have partnered with Foodbank to donate meals and help fight hunger. Foodbank is the largest hunger relief charity in Australia, sourcing meals from generous donors and distributing them to vulnerable people including students, charities and individuals such as those affected by bushfires and floods.
Who do Foodank provide for?
In normal times, Foodbank provides essential food and grocery relief to 815,000 Australians experiencing food insecurity every month. But these are not normal times and the charities that have been able to remain open during COVID-19 report that demand for food relief has been up 47% on average since the pandemic was declared.
A Foodbank truck visits our Moorebank factory twice a day, 6 days a week and collects any bread that is not fit for store such as overbakes and out of specification loaves. Not all of our sites have a relationship with Foodbank, often due to location difficulties, but the majority of them do and our Hobart site has been working with Foodbank for over 11 years.
On average we donate 1.2 million meals per year with the help of Foodbank, and it is entirely a collaborative effort with our donations being ingrained in the way our teams work on site. To put this into perspective; Foodbank was able to reach 3 million people with a total of 87.9 million meals in 2020. (foodbank.org.au) 
Kindness Impact
Supporting our local communities is part of our core values and we're proud to work with Australia's leading food and grocery relief organisation as we continue on our mission to spread kindness across the country. Through our partnership we are able to support and assist families and individuals when they need it most.
The positive impact is both short and long term, addressing not only immediate hunger, but also contributing to people's overall physical and mental wellbeing. Our partnership also helps us on our mission to be kinder to the environment by reducing Australia's food waste problem, with Foodbank's work in 2020 saving 92.7 million kilograms of CO2 emissions. (foodbank.org.au) 
You may not be able to donate food daily to those in need, but sharing food is a powerful way of showing kindness. Find the simple ways you can add more kindness into your day-to-day life and join us on our mission to make Australia a kinder place.
Want to know more about kindness?
We have commissioned McCrindle to create a report on the current state of kindness in Australia and give us a score that we're calling The Kindness Index. You can enter your details below to get access to the full report, or we've together a Kindness Hub with all the info you need and we've collected some community stories and how-to guides in our Kindness Chronicles. 
---