Kindness is good for us
At Helga's, we're on a mission to help Australians feel happier and more connected. We know that every grain of care counts so we're seeking to understand how kindness can have a ripple effect in our communities and the nation. We commissioned McCrindle to produce a first of its kind report, exploring the current state of kindness in Australia. The Kindness Index Report serves as a benchmark, which will help us measure how kindness shifts in our country over time. 
Measuring Australia's kindness
Kindness forms an important part of our nation's fabric, strengthening communities, reducing loneliness and spreading care across the country. And now – with the Kindness Index Report – we've found a whole new way to measure it. In this report, we take you on a deep dive into what it means to be kind, revealing our kindest generation, the way we live out kindness, and the kind acts we all want more of. Ready to discover the state of kindness in Australia? Hit the button below! 
Key insights from the report
We've pulled out five key insights from Helga's Kindness Index Report for you to read,
or you can access the full report.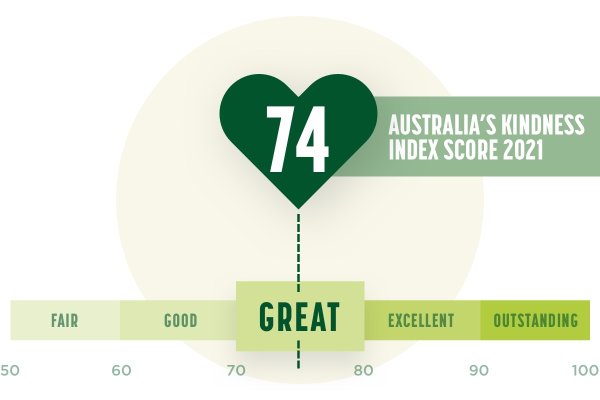 Australia scored 74 on the Kindness Index for 2021, a figure that equates to 'Great' on the Index score meter and one we should be proud of. There was one age group in particular that outshone the rest, and that was Gen Z. Boasting a Kindness Index score of 77, this group of young Australians proved the kindest of all.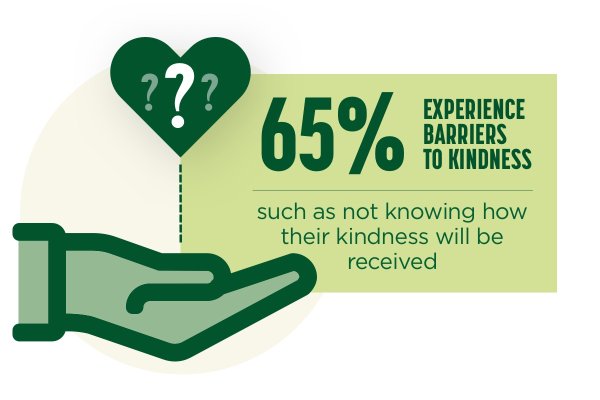 65% of Australians experience barriers to kindness, such as feeling out of their comfort zone and not knowing how their kindness will be received. In fact, these Australians perform an average of 3.5 fewer acts of kindness each week than those who face no barriers – resulting in Australia missing out on 2.37 billion acts of kindness each year.
What kindness means to Australia
By calculating a kindness score for individuals, the report explores the current state of kindness in Australia, revealing the kindest generations, capital cities and the way we live out kindness. The report also uncovers the kindness gap – a startling discrepancy between the number of acts of kindness we receive each week and the number we perform – and provides a look into the future of kindness in Australia. There's never been a more complete picture of our nation's kindness.